Ensley Xteriors LLC: Calhoun's Premier In Pressure Washing Services
Ensley Xteriors LLC is your local hometown pressure washing, soft washing, and exterior cleaning expert, proudly serving Calhoun and the surrounding Northwest Georgia communities with a wide array of exterior cleaning services. Our pressure washing specialists can help you set a new standard of clean for your outdoor spaces with services such as: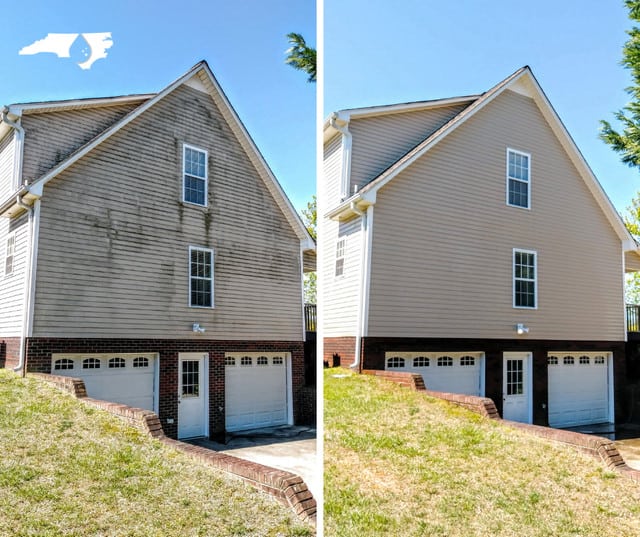 At Ensley Xteriors LLC, we provide professional performance and top-quality results on every project, every time. With our top-of-the-line commercial-grade pressure washing equipment, a state-of-the-art low-pressure soft washing process, and environmentally-friendly cleaning products, we'll ensure you receive five-star service every time – and ensure the safety of your loved ones, your pets, and your landscaping plants.
In addition to our pressure washing specialists, we also have a certified horticulturist on staff to give your landscaping plants the TLC they deserve. From bedding installations to tree trimming to landscaping maintenance, our skilled professionals will make your curb appeal pop, creating an inviting welcome for your loved ones, your patrons, and your clients to enjoy.
Community Relationships Matter
We're about more than just pressure washing for Calhoun and the surrounding communities. Our technicians live, work, and play where you do, which is why you can always count on us to treat your Calhoun area home, business, or commercial property with the care and concern it deserves. We're here to build long-lasting community relationships with our friends and neighbors in Northwest Georgia.
Let the pros at Ensley Xteriors LLC show you what a difference our pressure washing, soft washing, and landscaping services can make for your Calhoun area property. Call us today at 706-767-6795 or use our convenient online request form to schedule a free consultation with one of our friendly professionals.
At Ensley Xteriors LLC, the only thing we love more than pressure washing Calhoun's dirty exterior surfaces is the look on the face of a satisfied customer!
Calhoun's Roof Cleaning Pros
One of our most popular services at Ensley Xteriors LLC is roof cleaning. Utilizing our state-of-the-art soft washing process, our roof cleaning specialists can remove the effects of the Northwest Georgia elements – algae, decaying organic materials, and other environmental pollutants – and restore the look of your roof's surface. For a fraction of the cost of re-roofing, our roof cleaning pros can bring new life to:
When you're scheduling roof cleaning, don't forget to ask about our gutter cleaning services. More than just a "blow and go," we manually scoop debris from your gutter troughs, thoroughly rinse and flush your downspouts, and inspect and reattach your hardware. The pros at Ensley Xteriors LLC offer our friends and neighbors in Calhoun and the surrounding communities five-star service on all of our roof cleaning and gutter cleaning projects!
Driveway Cleaning For Your Calhoun Home Or Business
Our skilled pressure washing experts can take your driveway to a whole new level of cleanliness and create an inviting welcome for your loved ones, your patrons, and your guests to enjoy. Ensley Xteriors LLC can remove the toughest algae, stains, automotive fluids, and grime from your driveway's surface, creating a pristine pathway for your Calhoun coupe.
In addition to driveway cleaning, we also offer residential and commercial concrete cleaning and graffiti removal to reinvigorate the look of your curbs, sidewalks, porches, patios, service bays, building exteriors, and more and keep them looking clean and fresh. Call us today at 706-767-6795 to schedule driveway cleaning, concrete cleaning, or any of our residential and commercial pressure washing services for your Calhoun area home or business, or use our easy online form to request a free quote.