We Offer Gutter Cleaning For Your Rome Home
Ensley Xteriors LLC gutter cleaning services keep your home's gutters flowing freely and functioning properly, protecting your landscaping plants and your Rome area home from water damage.
Your gutters provide an essential function to remove water and debris from your roof's surface and direct the flow away from your roof, your entryways, and your landscaping beds. When our famous Georgia pines and other deciduous dirty-doers drop their needles, leaves, and twigs, clogged gutters are sure to follow. Not only are clogged an issue, but the weight of loose shingle granules and organic debris can cause your rain gutter system to detach from your structure.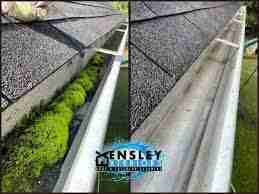 Gutter clogs and malfunctions can lead to pooling, breaches, and even water intrusion. Left unchecked, a little pine straw can lead to big problems like rot, mildew, and even damage to your substructure. Don't let your gutters go – call the pros at Ensley Xteriors LLC!
At Ensley Xteriors LLC, we don't believe that professional gutter cleaning for your Rome area home should be a "blow and go" type of service. We pride ourselves on going the extra mile for our customers, which is why our gutter cleaning services include:
We use top-of-the-line commercial-grade equipment, state-of-the-art low-pressure soft washing applications, and environmentally-friendly biodegradable cleaning solutions on all of our gutter cleaning projects. Find out why we're the Rome pressure washing specialist your friends and neighbors trust for gutter cleaning, pressure washing, and soft washing services. When you want professional performance and quality results, call the gutter cleaning experts at Ensley Xteriors LLC at 706-767-6795 or use our easy online request form to schedule a free estimate.
Rome's Pressure Washing Experts
When it comes to exterior surface cleaning for your Rome area home or business, the experts at Ensley Xteriors LLC have you covered. We offer a complete line of pressure washing, soft washing, and outdoor cleaning and maintenance services to take your curb appeal to the next level. Our skilled pressure washing technicians are well-trained in safe and effective exterior cleaning methods to handle the toughest contaminants that Mother Nature can throw at your exterior surfaces.
From window cleaning and house washing to keeping your bedding plants looking fresh, our exterior cleaning specialists will get your Rome property ready to put on the market, in shape for your next family barbecue, or just make another day at the office a healthier, happier place to be.
Your Rome area home or business will shine when you take advantage of our wide array of exterior cleaning and maintenance services:
We're your local, hometown pressure washer, and we're working hard to build the community relationships that help us all enjoy living, working, and playing in Rome and the surrounding Northwest Georgia communities. We'd love to add you to our ever-growing list of satisfied customers. Call us today at 706-767-6795 or use our convenient online request form to schedule services for your Rome area home or business. At Ensley Xteriors LLC, quotes are always free, and your satisfaction is always guaranteed.