Rome Professionals, Experienced In Top Graffiti Removal
Don't let poorly-placed artistic expression ruin the look of your Rome area property – call the graffiti removal specialists at Ensley Xteriors LLC to restore your surfaces to pristine condition. When you own a business or commercial property, graffiti removal is sometimes necessary as a part of your maintenance routine. Left unchecked, a minor nuisance can turn into a big problem.
The longer that graffiti has time to sit, the harder it is to remove. When ugly and offensive words are included, those dastardly doodles can deter clients and customers. A little graffiti also invites a lot more graffiti, and a single "Kilroy Wuz Here!" can soon turn into a graffiti gallery. Studies have shown that the presence of illegal graffiti on a residential or commercial property also correlates to crime, sending a message to criminals that your property isn't maintained or monitored. Theft and further vandalism can follow.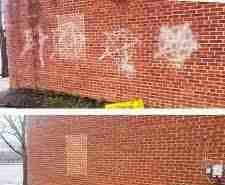 The graffiti removal experts at Ensley Xteriors LLC have top-of-the-line commercial grade pressure washing equipment with adjustable settings, a state-of-the-art soft washing process, and biodegradable, eco-friendly cleaning solutions to tackle your toughest graffiti removal project. Our Rome pressure washing experts have the expertise to safely and effectively remove the most stubborn graffiti from your most fragile exterior surfaces, including:
We're your hometown graffiti removal specialist, proudly serving your friends and neighbors in Rome and the surrounding communities for all of your exterior cleaning & maintenance needs. When you want five-star service, professional performance, and quality results, Ensley Xteriors LLC is ready to serve you. Call us today at 706-767-6795 or use our easy online request form to schedule a free quote for your Rome area business or commercial property.
Ensley Xteriors LLC Takes Care Of Your Dirty Business
Keeping your exterior surfaces clean can be a full-time job, and who has time to do that when you're trying to run a business? At Ensley Xteriors LLC, we love dirty outdoor surfaces – almost as much as we love seeing the look on a customer's face after we reveal what was hiding behind all of that dirt. From dumpster washing to concrete cleaning to keeping your building fresh with building washing, our skilled technicians can handle your dirty business and leave your commercial property with a fresh and welcoming appeal.
Our complete line of commercial pressure washing services for your Rome area business or commercial property can bring new life to:
As a small business looking to build community relationships, we understand that our reputation is everything. That's why we work hard to maintain those five-star customer ratings and provide top-quality results on every project, every time. Ensley Xteriors LLC is the pressure washing, soft washing, and exterior cleaning and maintenance specialist, your friends and neighbors from Lindale to Shannon to Armuchee and the surrounding Northwest Georgia communities, trust to make their curb appeal pop.
Call us today for a free estimate at 706-767-6795, or use our convenient online request form to schedule commercial pressure washing services for your Rome area business or commercial property. Let the pros at Ensley Xteriors LLC give your outdoor spaces a spectacular sparkle!