Experienced Deck Cleaning In Rome
Algae-ridden decks can be a major slip hazard on a wet day, but the deck cleaning pros at Ensley Xteriors LLC can remove dangerous organic invaders from your deck's surface and create welcoming outdoor spaces for your Rome area home or business.
High traffic, weathering, and invasive organisms can take a toll on the appearance of your deck's surface. When you factor in damp or shady conditions, decaying organic materials from our beautiful Georgia tree canopy, and our warm climate, it creates a perfect breeding ground for a deck disaster. Deck cleaning removes the grimy buildup, deeply-rooted growths, and unsightly pollutants from your deck to reveal the natural beauty of your wood surface.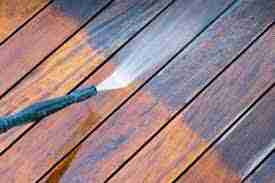 The deck cleaning experts at Ensley Xteriors LLC have top-of-the-line commercial-grade pressure washing equipment, state-of-the-art soft washing applications specially designed for cleaning wood surfaces, and the expertise to give your deck a renewed radiance – for a fraction of the cost of expensive deck replacement. But why stop at deck cleaning? We offer a wide array of cleaning and restoration services to reinvigorate the look of the exterior wood surfaces around your Rome area home or business, including:
Call us today at 706-767-6795 or use our easy online request form to schedule deck cleaning or other pressure washing for Rome area properties.
Hire Local, Hire Direct For Quality Pressure Washing And Soft Washing For Your Rome Area Home Or Business
At Ensley Xteriors LLC, we live, work, and play where you do. It may be tempting to use a service platform to secure services from a pay-for-play "list," but it's important to research reviews and find a reputable exterior cleaning expert your friends and neighbors know and trust.
The only list we want you to be on is our ever-growing list of satisfied customers, which is why we proudly offer a full line of top-quality pressure washing, soft washing, and outdoor maintenance services for your Rome area home or business.
Our pressure washing specialists are highly skilled and well-trained in industry standards, using top-of-the-line commercial-grade pressure washing equipment, state-of-the-art soft wash applications, and environmentally safe cleaning products to ensure quality results while maintaining the health and well-being of your loved ones, your patrons, and your employees. We even have a certified horticulturist on staff to give your landscaping plants the TLC they need to grow and thrive.
At Ensley Xteriors LLC, the only thing we love more than dirty exterior surfaces is the look on the face of a happy client who has just seen the difference that our exterior cleaning experts have made for the curb appeal of their home, business, or commercial property. We're here to build community relationships, which is why our quotes are always free, and your satisfaction is guaranteed.
Call the pressure washing experts at Ensley Xteriors LLC today at 706-767-6795 to schedule services for your property in Rome, Calhoun, Summerville, and the surrounding Northwest Georgia communities, or use our easy online request form. Whether you want to refresh your outdoor gathering spaces for a family barbecue, prepare your tennis courts for a big tournament, or maintain a welcoming freshness for your outdoor dining establishment, we want to make your home or business a healthier, happier place to be.