Dumpster Washing Professionals Serving Clients In Rome
When it comes to taking care of the dirty business around your Rome area business or commercial property, the dumpster washing professionals at Ensley Xteriors LLC are cleaning up in this town. We'll keep your dumpsters, garbage pads, service bays, and loading docks looking fresh and appealing.
Routine dumpster washing is vital to keeping odors, germs, and bacteria at bay, eliminating the nasty, grungy buildup that can attract insects and rodents. Dumpster washing aids in maintaining a tidy service area, providing cohesive cleanliness that sets a new standard of cleanliness for your business. Your dumpster will have such a spectacular shine; you may have to refer to it as a "sparkler."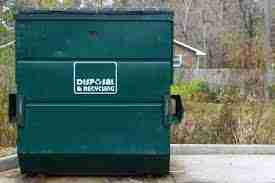 Ensley Xteriors LLC offers dumpster cleaning and pressure washing in Rome and the surrounding Northwest Georgia communities and would love to add you to our ever-growing list of satisfied customers. We offer professional performance, quality workmanship, and five-star results on all of our exterior cleaning services for your Rome property. Don't let a stinky, grimy, nasty dumpster keep your business down in the dumps!
Call the dumpster washing experts at Ensley Xteriors LLC today at 706-767-6795 or use our easy online request form to schedule dumpster washing or other exterior cleaning services for your business or commercial property in Rome or the surrounding Northwest Georgia communities.
Commercial Pressure Washing & Exterior Cleaning Services For Your Rome Property
Whether you're hoping to give your newly-listed property enough curb appeal to start a bidding war, your storefront a sparkle that outshines the competition, or your church cleanliness worthy of a chorus of angels, Ensley Xteriors LLC offers a wide array of exterior cleaning services to bring out the best in your Rome area property.
Our complete line of commercial pressure washing, soft washing, and outdoor cleaning and maintenance services enhance the look of your outside spaces while creating a healthy and happy environment for your clients, patrons, staff, and guests to enjoy, including:
Ensley Xteriors LLC uses top-of-the-line commercial-grade pressure washing equipment, state-of-the-art soft washing applications, and environmentally sound cleaning products to ensure quality results while protecting the safety and well-being of the people, pets, and plants around your Rome property.
From maintaining the appearance of your brick, concrete, or glass surfaces with routine building washing and window cleaning to reenergizing your landscaping with fresh bedding plants to installing decorations and lighting for the holidays, Ensley Xteriors LLC is the local hometown exterior cleaning & outdoor maintenance expert your friends and neighbors trust to keep their business or commercial property looking fresh and inviting.
Don't forget to ask about our landscaping maintenance services. With a certified horticulturist on staff, we'll give your landscaping plants the TLC they need to grow and thrive! Call us today at 706-767-6795 or use our easy online request form to schedule a free estimate for your Rome area home or business.