#1 Building Washing For Your Rome Business
At Ensley Xteriors LLC, our building washing experts love Rome's dirty buildings almost as much as we love the look on a customer's face when they see what was hiding under all that grime!
Give your business or commercial property a fresh new appeal with Ensley Xteriors LLC building washing services. Our skilled professionals have top-of-the-line commercial-grade pressure washing equipment, state-of-the-art soft washing applications, and environmentally-friendly cleaning solutions that are safe for people, pets, and landscaping plants.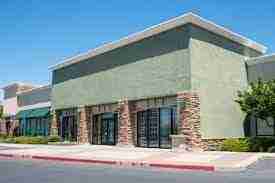 Your building's exterior is at the mercy of the Georgia elements, but our building washing experts can safely and effectively clean your delicate exterior surfaces. Our low-pressure soft washing process thoroughly saturates invasive organisms and pollutants, removing harsh contaminants like invasive green algae, decaying organic materials, bird and animal droppings, and the nasty grime that can accumulate on your building's surface.
Our soft washing application (also known as "no pressure washing") is safe for a variety of building surfaces, including:
Make building washing a part of the maintenance routine for your business or commercial property and call the exterior surface cleaning pros at Ensley Xteriors LLC today at 706-767-6795 or use our easy online request form for a free quote.
Your Dirty Business Is Our Business - Rome's Commercial Pressure Washing Pros!
When you're looking for commercial pressure washing in Rome and the surrounding communities, Ensley Xteriors LLC is the local hometown pressure washer your friends and neighbors trust to keep their businesses and commercial properties looking fresh and appealing.
Whether you want to enhance the value of your listed property, improve the look of your storefront, or create a healthy working environment at your office building, our skilled professionals can remove the toughest contaminants from your most delicate exterior surfaces. From concrete cleaning to window washing, our adjustable pressure settings and state-of-the-art applications are safe for any exterior surface.
We offer a complete line of pressure washing and soft washing services to give your Rome property a renewed allure and can provide a new life to:
Don't forget to ask about our landscaping services! With a certified horticulturist on staff, Ensley Xteriors LLC will give your landscaping plants the TLC they need to grow and thrive. We offer seasonal bedding installations and maintenance, storm debris and leaf cleanup, and holiday light installation to keep your Rome area business or commercial property looking fresh and festive year-round.
At Ensley Xteriors LLC, we live where you do. We're raising our families alongside yours, shopping at the same grocery stores, and attending the same community events, which means keeping our customers satisfied and maintaining our reputation for professional performance and quality results is vital to our success. When you want five-star service for your next exterior cleaning project, call the pros at Ensley Xteriors LLC at 706-767-6795 or use our easy online request form. Our quotes are always free, and your satisfaction is always guaranteed.