Offering Rome Fence Washing
In our Northwest Georgia take on Rome, we don't have an Aurelian Wall encircling our city, but we do have our share of fine fences – and the only thing the fence washing experts at Ensley Xteriors LLC love more than a dirty fence is the look of satisfaction of the face of our client after we reveal their freshly cleaned surfaces.
Your fence not only keeps your property and loved ones safe but also frames the look of your home or business. When unsightly algae, the effects of weathering, and environmental pollutants take their toll on your fence's surfaces, it can cause your curb appeal to tank. For a fraction of the cost of replacing expensive fencing materials, the fence washing pros at Ensley Xteriors LLC of Rome can reverse the effects of time and remove deeply-rooted invasive organisms at the source.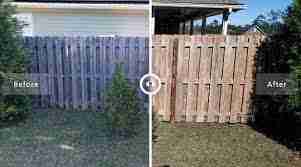 Our skilled fence washing specialists use top-of-the-line pressure washing equipment, state-of-the-art soft washing applications, and environmentally-friendly cleaning solutions to safely clean and revitalize the look of your fence, giving new life to a variety of fence materials, including:
Our fence restoration professionals will give your fence new life, creating clean and welcoming outdoor spaces for your loved ones, your clients, and your guests to enjoy. Whether you need fence cleaning for a large recreational facility, want to restore the look of your patio home's privacy fence, or are updating the curb appeal of your neighborhood entryway, the experts at Ensley Xteriors LLC will provide you with professional performance and quality results on every job, every time.
Call us today at 706-767-6795 or use our easy online request form to schedule fence washing, house washing, graffiti removal, or other exterior cleaning services for your Rome area home or business.
Local, Hometown Pressure Washing Services You Can Rely On
At Ensley Xteriors LLC, we know the value of good community relationships and the importance of supporting our friends and neighbors who are local service providers. Our skilled technicians are raising their families alongside yours; we wave at each other in the grocery store, we attend the same community events – which is why you can count on us to provide you with top-quality pressure washing in the Rome area. We'll always treat your home, business, or commercial property with the care it deserves and make it a healthier, happier place to be.
Our complete line of residential and commercial pressure washing, soft washing, and exterior cleaning and maintenance services includes:
At Ensley Xteriors LLC, our quotes are always free, and your satisfaction is always guaranteed. If you need cleaning for a Coosa community center, a Rome restaurant, or Shannon shopping center, our commercial pressure washing services can give your outdoor gathering spaces a welcoming freshness while creating an inviting curb appeal to attract patrons. Our residential exterior services can reinvigorate the look of your Mount Berry mansion, your Lindale lodging, or your Calhoun condo.
With our top-of-the-line professional-grade pressure washing equipment, our state-of-the-art soft wash process, our skilled pressure washing technicians, and our on-staff certified horticulturist, we'll give your Rome area property a renewed radiance and your plants the TLC they need to grow and thrive. Call us today at 706-767-6795 to schedule exterior cleaning and maintenance services for your Rome area home, business, or commercial property – or use our easy online request form for your free quote.
We also have a skilled horticulturist on staff to give your landscaping plants the TLC they deserve. From bedding installations to tree trimming to landscaping maintenance, our skilled professionals will make your curb appeal pop, creating an inviting welcome for your loved ones, your patrons, and your clients to enjoy.