Commercial Pressure Washing Success Stories From A Hometown Rome Professional
As a local hometown service provider offering professional pressure washing in Rome, it never ceases to amaze me the difference my services make for my customers. My pressure washing and soft washing services make their homes a happier, healthier place to live for my residential clients, which is great because I live here, too. I also work here, and I understand that when I help other businesses in my community thrive and prosper, it benefits us all.
Community relationships are what it's all about for me, and by offering commercial pressure washing to my friends and neighbors in areas like Calhoun, Summerville, and Cave Spring, I'm watching my business grow by helping others, which is so rewarding – almost as satisfying as the look on the face of a client when they see their freshly cleaned property.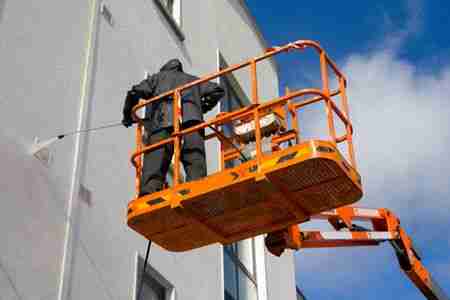 To give your Rome area business or commercial property a fresh appeal, call Rome's pressure washing experts at 706-767-6795 or use our easy online request form!
We've got some tremendous commercial pressure washing customers in Rome and surrounding Northwest Georgia areas … well, let me tell you about a few of my favorites, without naming any names, of course.
Serving Up Clean Tennis Courts
A local organization needed our help. They had a televised tournament coming up, and their tennis courts were in rough shape. We used our state-of-the-art soft wash process to safely and effectively remove the dirt, grime, and algae and restore the life to the court surfaces. When Rome was featured in the spotlight, those tennis courts made us all hometown proud!
And speaking of being proud, my five-star pressure washing team cleaned 29 individual tennis courts in nine days! Game. Set. Match.
I was cleaning a lovely local church in the Rome area. We'd refreshed the sidewalk and parking lot with concrete cleaning, removed algae and grime from the brick exterior using our state-of-the-art soft washing application, and gave an immaculate sparkle to their delicate stained-glass windows using our window cleaning expertise. But when we got to the magnificent steeple, we came up short of reaching the top by about ten feet.
No worries! We obviously had a higher power watching out for us and used our commercial-grade equipment to get the job done to the customer's satisfaction. As the saying goes, "Cleanliness is next to …" well, you know.
A client had a property they'd listed on the market, and the reception hadn't been what they expected, so they called us in to help revitalize their curb appeal – only we didn't stop at the curb. After performing a few of our services like house washing and driveway cleaning, we got a note from our customer saying that they'd received a cash offer over the asking price within eight hours – and credited us with playing an integral part in the sale of their property.
That's what makes my job and my business worth every drop of sweat. My clients are the reason I am a pressure washing professional.
The Rewards Of Commercial Pressure Washing Runneth Over
I work hard for my commercial pressure washing clients, and their great reviews and referrals keep my schedule full. When I give a local business a fresh parking lot and storefront, reinvigorate the curb appeal of a property listing, or create healthy and safe surfaces where people gather and play, it also makes my heart full.
It's more than just taking care of a little graffiti removal or working on a deck restoration; it's about making our Rome community a better place to live, work, and play. I'm grateful for the support of my customers, and I'm proud to provide them with professional performance and quality results.